Chalet rentals Decembre 31st
Home – Our holiday rentals – Chalet rentals December 31st
Are you planning to go on a winter sports holiday? For a couple coming on holiday, for example, you can find a ski studio to rent on Atherac Location's La Clusaz Réservation website. Our site lets you find your perfect property more easily.
We propose fully equipped rental studios where you can enjoy a great holiday in the resort of La Clusaz. » Rent a chalet to celebrate New Year's Eve.


Rent a chalet to celebrate
New Year's Eve
Celebrate New Year in a chalet in La Clusaz. In the heart of the Les Aravis massif in Haute-Savoie, the ski resort of La Clusaz is waiting to welcome you to celebrate the new year in a magical atmosphere. When you reserve a chalet at the foot of the slopes in La Clusaz, you can enjoy all the activities proposed by the resort and create a host of memories for the new year.
– CELEBRATE THE NEW YEAR IN A SKI CHALET IN LA CLUSAZ –
With a ski area with over 132 kilometres of runs at 2 600 metres altitude, La Clusaz has all the assets you need for an unforgettable holiday in an exceptional setting to celebrate New Year.
Zoom on sports activities in La Clusaz. To really recharge your batteries, the resort of La Clusaz proposes a wide range of sports activities in addition to skiing. For example, you can:
– Discover the fun of skating on a 1 000 m² ice rink. For an original evening, you can also make the most of our weekly evening openings;
– Have fun with your family on one of the three sledging runs in the La Clusaz area;
– Go hiking to admire the snowy landscapes of the northern Alps on snowshoes on the 30 kilometres of groomed trails in La Clusaz and the 95 kilometres of marked trails in the Les Aravis massif;
– Try new snow sports in the La Clusaz ski area, such as snow-scoots, ski-bikes, Paret sledges or Yooner ski-sledges…
– Fly over the Aravis mountains on a paraglider;
– Become a musher for a day and drive the dog sled!
After a thrilling day of sport, you can relax in the Les Aravis aqua-leisure centre with a swim in one of the indoor or outdoor heated pools or a session in the steam room or sauna.
For an even greater level of wellbeing, you might want to opt for a chalet rental for New Year's Eve in La Clusaz. For example, some of our 4* prestige chalets have a steam room where you can relax at any time of the day.
– Discovering La Clusaz's heritage –
Renting a chalet for New Year in La Clusaz also offers an opportunity to (re)discover Savoyard traditions by visiting the Hameau des Alpes: you will become an expert in making Reblochon, the emblematic Savoyard cheese, or in the history of winter sports…
To continue your introduction to the rich heritage of La Clusaz, you can also meet the people who make the Reblochon or join a guided tour to find out all about the Savoyard myths and legends!
Then, on New Year's Eve, don't miss the ESF's traditional long torchlight descent and La Clusaz's magnificent firework display!
– Renting a chalet for the New Year in La Clusaz –
A destination of choice for the New Year, La Clusaz offers a vast selection of accommodation that will satisfy holidaymakers' requirements. To help you prepare your holiday, the Athérac Location agency has been offering a seasonal rental service for apartments and chalets since 1998.
– Holiday rentals for New Year in La Clusaz –
To get together with your family or your friends for the end-of-year celebrations, you can take advantage of our special New Year's Eve offers for December 31st to book a chalet for the new year in La Clusaz. High-end chalets can sleep up to 13 people.
This quality accommodation will ensure an unforgettable holiday in La Clusaz to celebrate the end of the year! Imagine opening the shutters every morning and admiring the unique panorama of the snowy Alpine massifs such as Balme, Beauregard or Les Aravis. Every evening back in the chalet, after a day on the ski slopes enjoying the fun of being in the mountains, you can get together around the fireplace to warm up and spend time with your loved ones.
– The extra services of a rental in La Clusaz –
Renting a chalet for New Year in La Clusaz ensures access to a high level of comfort. Everything has been thought of to ensure that you enjoy every moment of your end-of-year stay without having to worry about the logistics.
For example, so that you can travel light, you will find the beds made up when you arrive in your chalet. In some chalets, the bath linen is provided. Alternatively, you can also benefit from a rental service so that you do not have to bring your bath towels and hand towels.
At the end of your New Year's holiday, you do not have to do the cleaning! You can now leave with peace of mind by booking an end-of-stay cleaning service. All you have to do is ski and enjoy your winter sports holiday. What's more, when you book your rental for New Year in La Clusaz, you can also hire your ski equipment and buy your ski passes.
Renting a chalet in La Clusaz for New Year therefore guarantees a quality service for your holiday in the mountains.
Finally, whatever your mode of transport, the ski resort of La Clusaz enjoys optimum accessibility:
The resort is close to Annecy, Geneva and Lyon airports;
There is a bus service from Annecy train station to La Clusaz;
By car, you can take the A 40 and A 41 motorways. Please note: Even if the roads are very well cleared of snow during the winter, you should either have snow tyres or snow chains.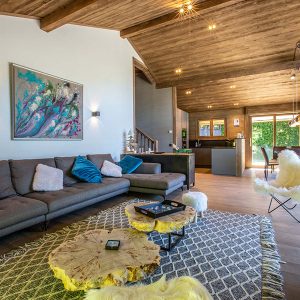 This cosy property is refined and beautifully-decorated. Perfect for a holiday with your family or with friends, you will love its terrace and the calm environment.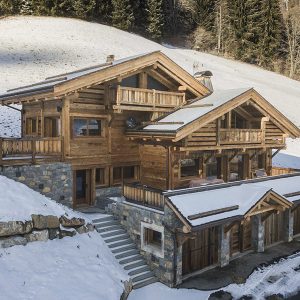 Typical Savoyard architecture for this 5* chalet with a sauna and a spa to add to the enjoyment of your holiday.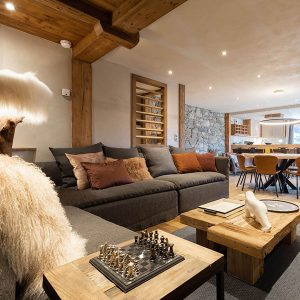 This property with a spa at the bottom of the slopes has a real surprise for guests: its own Savoyard mazot (small outbuilding) on the terrace for a truly authentic mountain atmosphere.
Athérac Location, the reference agency in the resort of La Clusaz, has built up a team of advisors dedicated exclusively to renting chalets, apartments and studios. They know the properties perfectly and will be able to help you select the right one for your next holiday.